Kana K.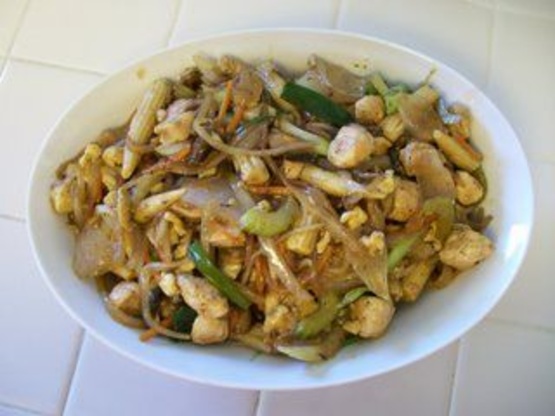 This is a variation of a "Chop Suey" dish that did not originate in China, but in San Francisco for American tastes. Word origin: late 19th century: from Chinese (Cantonese dialect) tsaâp suì 'mixed bits.'
4 -6

ounces chicken meat, thinly shredded (115 - 175 grams)

1

teaspoon salt
1⁄4 egg white

1

tablespoon thick cornstarch paste (1 part cornflour with 1.25 parts cold water)
1⁄2 teaspoon finely chopped garlic (optional)

1

tablespoon thinly shredded fresh gingerroot

3 -4

spring onions, thinly shredded

1

small green pepper, cored and seeded, thinly shredded
1⁄2 teaspoon caster sugar (superfine)

1

tablespoon light soy sauce
1⁄2 tablespoon rice wine

2

tablespoons chicken stock

1

dash sesame oil
1⁄2 pint seasoned oil (see below)

1

pinch msg (optional)
Mix the chicken shreds with a pinch of the salt, the egg white and about 1 teaspoon cornstarch paste.
Blanch them in warm oil, stir to separate, then remove and drain chicken.
Pour off the excess oil, leaving about 2 tablespoons in the wok, stir-fry all the vegetables for about 1 minute, add the remaining salt and sugar, blend well, then add the chicken with the soy sauce and wine, stir-fry for another minute, and add the stock and MSG (optional), finally thicken the gravy with the remaining cornflour paste, garnish with the sesame oil and serve hot.