Chicken Chipotle Burrito Bowls
Prep 10 mins
Cook 30 mins

We thought this recipe was awesome!Tons of flavor. Add your chipotles to taste. We like it spicy, so I add more. I also added way more cumin. Instead of topping it with plain sour cream, I topped it with Patriot Chipotle Ranch Dip That went wonderful with it! The recipe doubles very nice. Makes great wraps with leftovers. Before adding your bean mixture, taste to see if it needs salted. I added salt to mine. You may need more rice than the recipe calls for. Source - Chefmeow
Directions
Heat oven to 350.
Spray a rectangular glass baking dish with nonstick cooking spray.
Arrange chicken in an even layer in baking dish.
In a bowl combine beans, corn, tomatoes, chipotle chili peppers, cumin, cilantro and garlic then pour mixture evenly over chicken.
Sprinkle with tortilla pieces then bake for 30 minutes.
To serve divide rice evenly among four serving bowls and top with chicken mixture.
Garnish with sour cream, shredded cheese and cilantro if desired.
Most Helpful
This was a big hit. Great flavors, easy to make and enjoyed by all.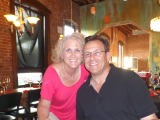 Delicious! This is packed with flavor, and so easy to prepare. Thanks for sharing! All You Can Eat Buffet Event Winter '12.

This is my kind of recipe! I love recipes that can be prepared ahead and popped in the oven as I sit back and enjoy myself as dinner bakes in the oven. This is one of those recipes and the results were wonderful! I might cut the chicken into a bit smaller chunks than I did. It was fine but that would just be my personal preference. We all enjoyed it - adding our favorite toppings. Thanks for sharing!