Prep 25 mins
Cook 30 mins
My family really likes these. Sometimes I will triple the recipe and put away lots of them in the freezer for quick meals later. You can vary the ingredients using different cheese or ground beef, etc. It makes about 8-10 chimichangas.
Directions
Cut block of cheese into approx.
10"sticks".
Dice or shred chicken (your preference).
In large skillet combine chicken, salsa, beans and seasoning mix.
Cook and stir over medium heat until thoroughly heated.
In another skillet, heat tortillas (1 at a time) for about 30 seconds per side so that they will roll up easier.
Remove tortilla from skillet and place 1/3 cup chicken mixture on each tortilla near 1 edge.
Top with a cheese stick, then roll up and wrap in aluminium foil.
Bake at 350 (in foil) for 30 minutes.
If you want to crisp it up a bit, remove the foil for the last 5 minutes or so of bake time.
*Thesefreeze very well and you can bake them frozen in the foil for 50 minutes.
Most Helpful
This was great! I used black beans rather than refried, to make it a bit healthier, and it went over wonderful! I doubled it, put it in the freezer, and we had it last week for dinner. I only reheated it for 30 minutes (because I had defrosted them) and it was great. Fast easy recipe. Thanks!
At first I didn't think this would be that great but I was wrong! As simple as is seems, it was great! I traded the refried beans for black beans but I'm sure that didn't change it much. It was easy, tasted great and my boyfriend loved it! No toppings were needed and we both had seconds!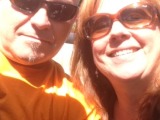 This is definately a keeper!! Everyone at the table agreed these were great!! The only change I made was that I used vegetarian refried beans. I wasn't sure about the size of the tortillas so I bought the really big (burrito) ones and a smaller one. First I tried the smaller one and they worked OK, but I decided to switch to the big ones and they worked a lot better. I actually got 11 out of the batch and froze 6 for a later date. Really easy and quick to put together. Thanks Sherri35!!