Chicken Chile Verde Enchiladas
rothiii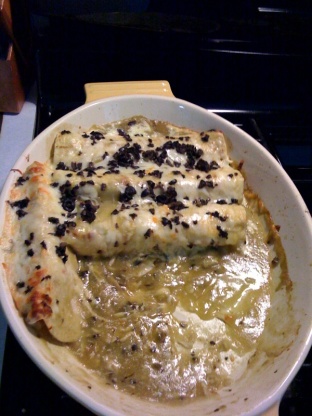 This is the way my Mom has been making enchiladas my whole life. She got the basic recipe from neighbors when she was a teenager. They are made with flour tortillas instead of corn and get a pasty texture which we enjoy. We always eat this with Rice Chile Verde for a nice unhealthy comfort food meal. My Mom has also frozen these alongside the rice chile verde in aluminum containers...they bake up great in the oven!

Top Review by lazyme
Yum!! I also had trouble finding the green enchilada sauce, but finally DH found some under the 'Las Palmas' label. These were easy to make and very good. I microwaved each tortilla for about 10 seconds to make the rolling a little easier. I ended up with a little filling leftover and tried it on a slice of baguette - very good too, lol. Thanks Engrossed for one that we will definitely repeat!
Cook chicken breasts and shred.
Preheat oven to 350°F.
Stir together cooked shredded chicken, first 2 cups of cheeses, sour cream, onion and diced green chiles. It should be the texture of chicken salad.
Coat the bottom of a 13x9 baking dish with enchilada sauce.
Optional: If tortillas are going to crack you can warm them in the oven or dip them in enchilada sauce.
Place a scant 1/2 cup of the chicken mixture on each tortilla. Roll up and place seam side down in the baking dish. **Use 1/3 cup of chicken mixture in thin tortillas.**.
After all of the tortillas are filled and in the baking dish pour all of the remaining enchilada sauce over them.
Top with the remaining 2/3 cups of shredded cheeses and sliced olives.
Bake for 35 minutes or until bubbly.