2Bleu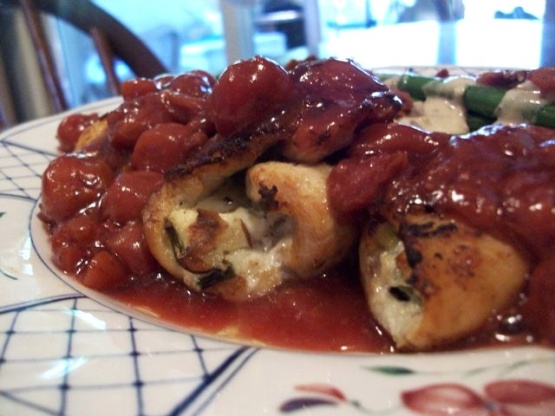 From the book, "365 Ways to Cook Chicken" by Cheryl Sedaker. I tend to substitute boneless chicken breasts, and have never actually tried this with the slivered almonds. This is one of those recipes that really is so easy to make but looks amazing and is very impressive at dinner parties.

Wonderful! I made this on 2Bleu's recommendation and was not disappointed. I used some thick boneless skinless breasts. I halved the recipe for 4 of us, but kept the cream cheese amount at almost the whole 3 oz because it seemed skimpy when I first mixed it up and we wanted lots of filling. After I took the photo I decided to sprinkle additional sliced almonds on top which was a perfect garnish. Thanks for a special Valentine's Day dinner.
Melt 2 tablespoons of the margarine in a medium-size frying pan. Add almonds and scallions and cook about 3 minutes, until scallions are soft and nuts are lightly browned. Remove to a small bowl; add cream cheese, 1/4 teaspoon salt and 1/8 teaspoon pepper; mix until well blended.
Slit a pocket in each chicken breast. Stuff each with a portion of cream cheese mixture and secure with wooden toothpicks. Season with additional salt and pepper.
In a large frying pan, heat remaining 2 tablespoons margarine in the oil. Brown chicken on all sides over medium-high heat, about 8 minutes. Add cherries with juice and orange peel to chicken and cook, covered, for 10-15 minutes, until cooked through. Arrange chicken and cherries on a serving dish and cover with foil to keep warm.
Bring liquid in pan to a boil and boil until reduced to about 2/3 cup. Stir dissolved cornstarch into juices in pan. Cook, stirring constantly, until sauce boils and thickens. Season with salt and pepper to taste. Pour half the sauce over chicken.
Warm brandy in a large ladle or small saucepan, but do not boil. Ignite carefully and pour flaming brandy over chicken. Pass remaining cherry sauce separately.