Chicken Cheeseburgers With Lemon Mayonnaise
AshK5246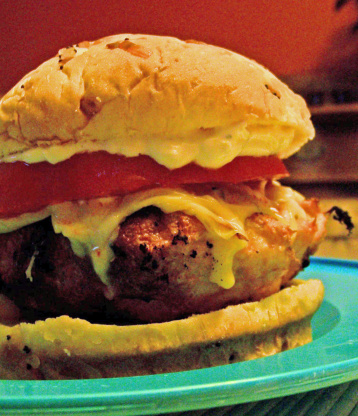 Chicken breast with rosemary, garlic,then mixed with saltine crackers, topped with lemon mayonnaise give these a luscious aroma and tangy flavor! Adapted from Southern Living magazine. These patties may be shaped ahead, wrapped in plastic wrap, and stored in zip top freezer bags in the freezer for up to three months. You may also mix dark chicken meat in with the breast.

We really enjoyed this dish. I used pre-ground chicken, and skipped the lettuce because I didn't have any on hand. I grilled the burgers on a gas grill. Everything else was as posted and everyone really enjoyed them. I am planning on making them again, as they are a great version of chicken burgers. The lemon mayo has been a big hit on our lunchmeat sandwiches, too.
Process chicken in a food processor until it is the consistency of ground beef; spoon into a large bowl.
Add egg and next 6 ingredients to ground chicken in bowl; stir until blended. Shape chicken mixture into 8 patties(about 6 ounces each). Chill 30 minutes until firm.
Cook chicken patties, in batches, in a lightly greased nonstick skillet over medium high heat 5 to 7 minutes on each side or until done. Top each patty with a cheese slice. Cover and cook 1 minute until cheese melts.
Top bottom halves of buns with tomato slices. Spread Lemon Mayonnaise evenly on tomato slices. Top with chicken patties and lettuce, and cover with tops of buns. Enjoy!
Lemon Mayonnaise:.
Stir together all ingredients. Cover and chill until ready to serve. Enjoy!