Chicken Cheese Enchilada Soup
loof751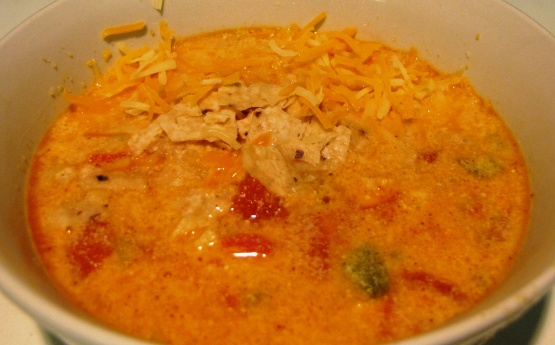 This is one of my family's all-time favorite soups that I have made for years --- you may adjust the peppers to suit heat level, all other amounts may be adjusted also :)

This was very good. I did add more flour to make it thicker (added about two handfuls) and also put in a can of Rotel instead of the tomato/chilis. Thanks!
In a large pot, bring the chicken broth to a light boil.
Add in chopped tomatoes; simmer on low.
Meanwhile, in a skillet, heat the butter, and saute the onion, add in the chiles; cook 2-3 minutes.
Stir in cumin and chili powder, then flour, blending well.
Gradually add in the half and half; stir to combine.
Transfer the mixture into the pot with the broth; cook at a bare simmer over very low heat for 15 minutes, stirring often.
Add in the cheese and sour cream carefully, stirring often.
Add in the cooked chicken; mix until combined.
Top with crushed tortilla chips, and grated cheddar sprinkled on top.