Chicken Cauliflower Casserole
Parsley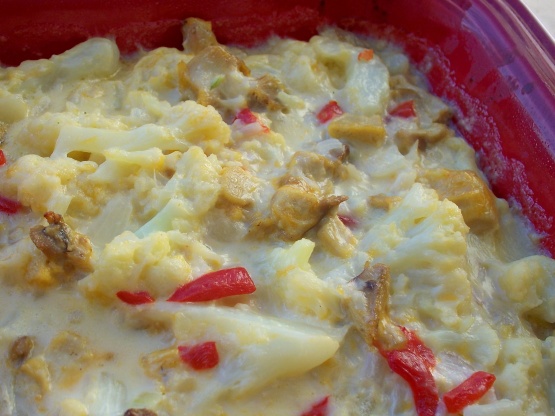 Found in "The Complete Step-by-Step Diabetic Cookbook". I haven't tried this one yet - but it looks pretty good. When I make it I'll likely leave out the pimento and add diced garlic.

"Fantastic and a Keeper"! I poached 2 breasts with the onion, several sprigs of parsley, 2 large sliced carrots and a sprinkling of celery salt and black pepper. Cut up the chicken when it was done and added it along with the onion to my casserole dish. Chucked the parsley and let the carrots finish cooking in the broth from the chicken. Steamed a 1/2 head of cauliflower, (only had fresh), tossed it with the chicken and pimento. I followed the instructions the sauce using 1/2 cup of white cheddar. The suce was the perfect consistancy. Just poured it over the casserole and baked 20 mins. The carrots were warmed up with a little butter and served on the side with a tossed salad.
Great tasting, low calorie and carb meal. Thank you.
Combine cauliflower, onion and water in a medium saucepan; cover and bring to a boil. Reduce heat and simmer 5 minutes or until veggies are tender. Drain and set aside.
Add milk, cornstarch, bouillon granules, and salt to saucepan, stirring with a wire whisk. Bring to a boil; reduce heat and simmer, stirring constantly until thickened and bubbly.
Add cheese; stir until cheese melts. Remove from heat.
Add cauliflower mixture, chicken and pimento to cheese sauce. Spoon mixture into a 1 1/2 qt casserole coated with cooking spray. Bake at 325 for 20 minutes.