Bergy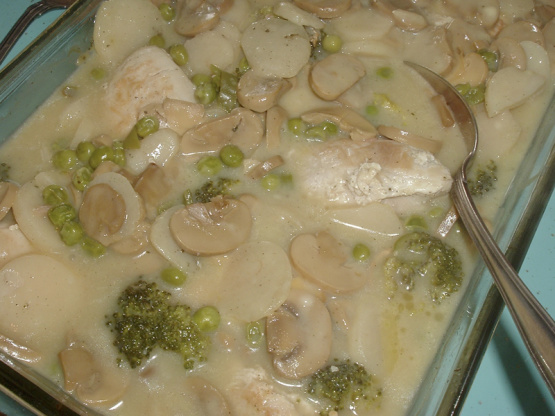 Very easy but it's really impressive.

Mizz Nezz, your are right! This was easy and very impressive. I left out the water chestnuts (only because I did not have them on hand), and served it with sauteed mushrooms, which was a nice compliment to the mushrooms that were in the sauce. I like the idea of adding additional veggies next time (peas, broccoli, etc), like Bergy suggested in her review, for a little variety - but is was wonderful just as written. Thanks - it is always nice to find new and different ways to dress up chicken breasts!
Heat oven to 350*.
Sprinkle chicken with salt and pepper; brown in oil in skillet.
Place in 11x7 baking dish.
Stir soup into skillet; blend in the wine.
Add mushrooms, water chestnuts, green pepper and thyme.
Heat to boiling; pour over chicken.
Cover and bake for 30 minutes.