Gruenes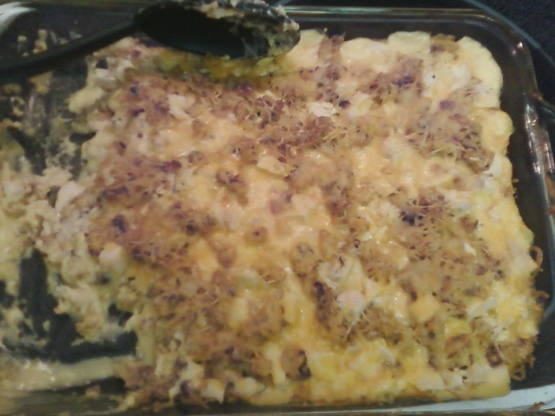 This is my famous chicken casserole. It is very easy to make and tastes great!!! This is one of my Husband's favorite recipes that I make. I hope you enjoy it.

This was just okay - I used much less soup than the recipe called for (only one can instead of three) and still found it quite rich. I think next time I will either try a different flavour of soup or use a can of gravy (or homemade frozen). It presents exceptionally well though, especially with a vegetable for extra colour and texture. After I tweak it just a bit for our liking I can see me having no problem serving this to company or bringing to a potluck.
Boil chicken breasts for 30 minutes or until done and cool.
Cut up chicken.
Start with one can of soup on the bottom, a layer of chicken, a layer of stuffing, and a layer of cheese. Continue until ingredients are gone. Last layer being a little cheese on the top.
Bake in the oven at 350 degrees for about 30 minutes or until it starts to bubble.