MA HIKER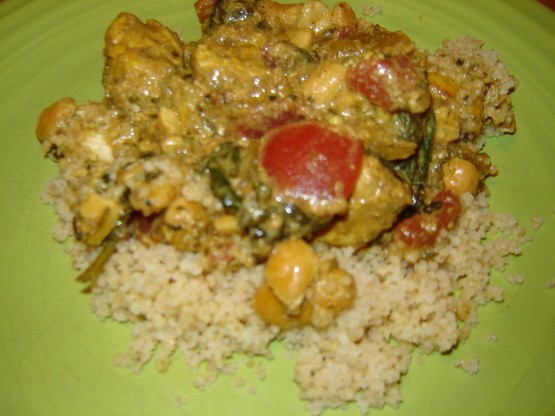 This is an incredibly easy curry and especially yummy. It makes alot of sauce which is delicious with rice or soaked up with bread.

Top Review by Maggie
Really so very good and so very fresh tasting with the cilantro and ginger. We did add some whole cashews to the top as garnish, and that added a nice touch, too. Thank you for a yummy keeper. Update 10/17: Thrilled to say that this freezes incredibly well if freezing before adding the yogurt. I let thaw in fridge overnight, slowly heated, added yogurt, and it tasted as good as new. I did add a little fresh chopped up tomato and next time might also add a bit of fresh cilantro if I had some, but really, that's just extra. This dish made me a hero again, and it's one I'll make (and double to freeze) again and again.
Heat butter in a large skillet over medium heat until melted, then cook onions, garlic, and ginger, stirring, until softened, about 5 minutes.
Add curry powder, salt, cumin, and cayenne and cook, stirring, 2 minutes.
Add chicken and cook, stirring to coat, 3 minutes.
Add tomatoes, including juice, and cilantro and bring to a simmer, then cover and simmer gently, stirring occasionally, until chicken is cooked through, about 10 minutes.
Pulse cashews in a food processor until finely ground, then add to curry.
Add yogurt, mix well, and simmer uncovered, stirring, until sauce is thickened, about 5 minutes.
Serve over basmati rice.
This can be milder or hotter depending on the hotness of your curry powder.