KateL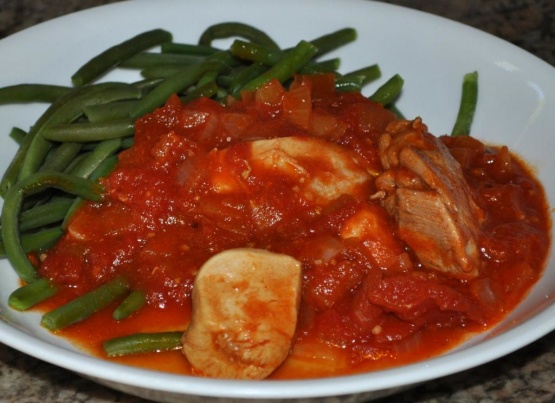 My mom was cleaning out one of her closets and came across several folders full of recipes that she had clipped from magazines and newpapers over the years. This came from a March 1992 edition of the Houston Chronicle. This chicken is great served over steamed rice.

Top Review by KateL
DH enjoyed this a lot, but this didn't wow me: it struck me as a "US Family Style" recipe that gave a nod to Mexican spices but was extremely mild. I had plenty of sauce, but perhaps that was due to the 28-oz can of Marzano plum tomatoes in tomato puree I used instead of tasteless hothouse tomatoes. I think this would be more appetizing with yellow rice. I liked how fast this came together. Made for Please Review My Recipe tag game.
Core the tomatoes and coarsely chop. Cut the chicken into 2" chunks. Chop the onion. Mince the garlic.
In a large nonstick skillet, heat oil until hot. Add the chicken and cook 3 minutes, stirring, until just golden. Remove to a plate and set aside.
Add onion and garlic to the skillet. Cook, stirring, 1 minute.
Stir in the tomatoes, paprika, cumin, oregano and red pepper flakes. Add salt and pepper to taste. Cook, uncovered, 10 minutes or until thickened.
Return chicken to skillet. Cook until tender, 3-4 minutes.
Serve over rice.