Chicken Cakes With Remoulade Sauce (Quick & Easy!)
Nimz1466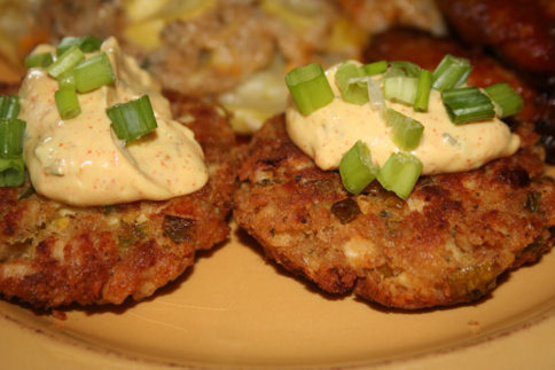 This is a delicious and quick recipe using pre-cooked chicken. Great for a weeknight dinner. Use your own pre-cooked chicken, or buy a deli-roasted chicken...both yield about 3 cups of cooked chicken. Featured in Southern Living's 40 Years of Our Best Recipes cookbook as a "Quick & Easy" recipe. From some of the reviews, I think it isn't as quick and easy as they would like :).

Top Review by vtg076
I've been making this recipe for years and my family loves it. I have much better success with it when I reduce the amount of breadcrumbs and increase the moisture (more butter when sauteing the onions and pepper). I also add more oil with frying. It helps with the flavor. I always use a rotisserie chicken, and the sauce is a must!
1⁄2 medium red bell pepper, diced

4

green onions, thinly sliced

1

garlic clove, pressed

3

cups chicken, precooked and chopped

1

cup soft breadcrumbs

1

large egg, lightly beaten

2

tablespoons mayonnaise

3

tablespoons creole mustard, divided into 1 tbsp and 2 tbsp portions

2

teaspoons creole seasoning, I prefer Tony Cachere's
1⁄4 cup vegetable oil

1

cup mayonnaise

2

garlic cloves, pressed

1

tablespoon parsley, fresh, chopped
1⁄4 teaspoon ground red pepper
green onion, sliced
Melt butter in a large skillet over medium heat. Add bell pepper, 4 sliced green onions, and 1 pressed garlic clove. Saute 3 to 4 minutes until tender.
Stir together bell pepper mixture, chopped chicken, 1 cup soft breadcrumbs, 1 large beaten egg, 2 tbsp mayo, 1 tbsp creole mustard, and 1 tsp creole seasoning. Shape chicken mixture into 8 (3 1/2 inch) patties.
Fry 4 patties in 2 tbsp hot oil in a large skillet over medium heat 3 minutes on each side or until golden brown. Drain on paper towels. Repeat process once until patties are done.
Remoulade Sauce:.
Stir together 1 cup mayo, 3 sliced green onions, 2 tbsp creole mustard, 2 pressed garlic cloves, 1 tbsp chopped fresh parsley, and 1/4 tsp ground red pepper. Cover and chill until ready to serve.
Serve chicken patties topped with remoulade sauce. Garnish with sliced green onions. Enjoy!