Chicken Caesar Pasta Casserole
KPD123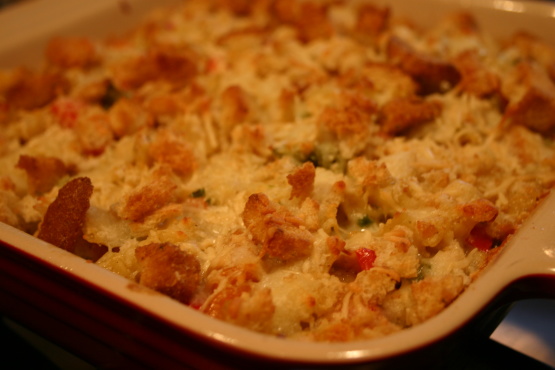 I finally decided to post this. I have made this recipe for years. Last year, I transformed this recipe and created Chicken Caesar Pasta Salad! I like to use a store-bought roasted chicken and an assorted bag of pasta that has penne, spirals, bowties and shells!! This recipe also works well with tortellini! I can't remember where this recipe originally came from... Enjoy!

This was absolutely delicious! I used 7-cheese tortellini from the fresh section, but forgot to cook it before making this dish. I just baked it an extra 10 minutes, and it was superb. My husband had seconds and commented that it was a really good meal (served with frozen peas). He had seconds. My only comment, which is not the recipe's fault, is to be careful of the ingredients you select because of the amount of combined salt. Next time I'll try to find a less salty dressing, since there's so much in the rotisserie chicken and cheeses. Otherwise, this promises to be a very versatile recipe that I'll use many times. Thanks for posting a great recipe!
In a large bowl, combine all ingredients EXCEPT croutons and parmesan cheese.
Pour mixture into a greased, 2-quart casserole dish. Top dish with croutons and parmesan cheese.
Bake at 350 degrees for 20 minutes or until casserole is heated through and croutons are golden brown.