Chicken Cacciatore Stew (Crock Pot)
Annacia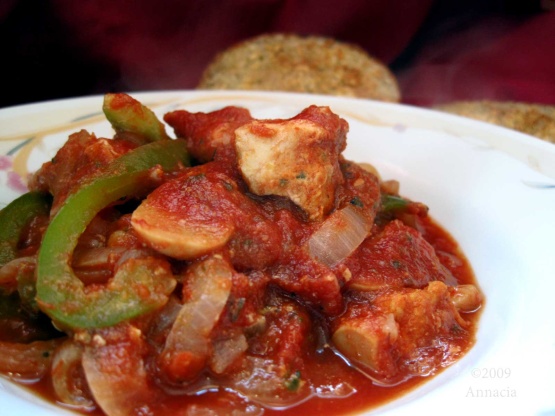 I like to make this on cold wintery days. It's really simple and smells good while it's cooking. Sometimes I leave out the beans and add another jar of sauce. From the Fast and Healthy magazine.

Used to make this alot when I lived in an apartment building ... would set this up in the crock in the AM & when I got home in the PM as soon as I was off the elevator I could smell dinner was ready ... and my neighbors thought I had a girlfriend home cooking for me - LOL. I agree w/ Annacia ... the recipe I have calls for chopped or crushed tomatoes instead of jar sauce & add your own Italian spices. Way better. Depends on how you like the sauce. It'll be thin unless you add tomato paste or tomato sauce. Thinner sauce goes with cappenilli/angel hair/ vermicilli and thicker sauce with fettucine/linguine.

The seasoning, tho, you def. need to add garlic to anything Italian plus any Mediterranean/Italian cooking go with thyme & basil. Some paprika I always but in for flavor & color. The original recipe I have (European Italian cookbook) also calls for white wine ... similar to other CC crock pot recipes out here. The spices & the wine just make the flavor richer.
Combine all ingredients in electric cooker pot.
Mix well.
Cover and cook on Low setting for at least 6 hours.