MsPia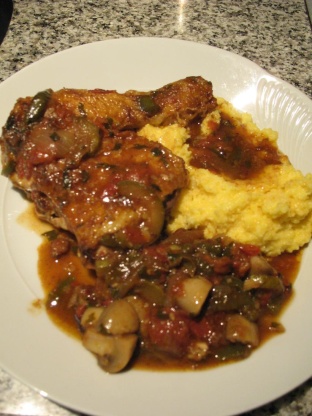 This is an adaptation of another cacciatore recipe I found on Recipezaar. This is the augmented wine content, gluten-free version (with extra veggies). Use fresh spices for this one and a robust red wine. If you aren't in love, after serving this, you will be. Please note that this makes enough to feed a prison.

Top Review by radish
This was really good! I do have a few comments- the flavor was a little bland, but then again I did use dry herbs. Also, the breading did not stay on the chicken. This recipe is great with a little chili pepper sauce! Or, mix with sour cream/plain yougurt for a nice sauce. :)
rinse and pat the chicken dry.
mix the almond and rice flour in a plastic bag and add the chicken. Roll the chicken around to get it good and coated.
heat the oil in a dutch oven type pan until you can smell it, but it isn't smoking.
cook the chicken in the oil, flipping pieces frequently to brown on all sides and remove from pan.
in the same pan, saute the onion, green pepper, garlic and zucchini until the onion is tender.
add the red wine, vinegar and spices to the veggies and simmer for 5 minutes, allowing the liquid content to concentrate and reduce slightly.
add tomatoes and tomato sauce (I use fire roasted tomatoes out of a can and it makes it pretty tasty.).
Stir all this up and add the cooked chicken.
Cover the pot and cook for 45 minutes over low to medium heat.
After 45 minutes, add the mushrooms and cook uncovered for another 15 minutes.
Serve over pasta, with rice, with mashed potatoes, with polenta or by itself with bread and plan to be loved.