Bel_Fran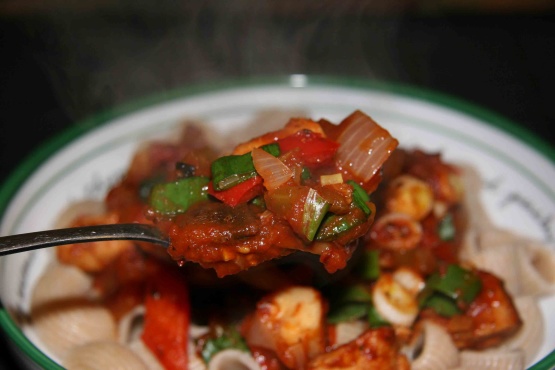 The first time I had chicken cacciatore in a restaurant, it was made with skin-on, bone-in chicken. The skin was so yucky and the bones were hard to deal with through the sauce. This recipe uses bite size, skinless, boneless pieces so there is nothing to fight with or yuck up the sauce. All the veggies in the sauce give it a wonderful texture and flavor. This recipe would probably work in a crock pot, but I haven't tried it that way yet.

AWESOME! I've made chicken cacciatore before, but the fresh garlic and extra veggies make a difference... I'm not a big fan of bell peppers so I took them out and added zucchini and yellow squash, and also used a smaller jar of ragu rather than hunts... but it turned out great.. this will be a staple in my house!
Heat the olive oil in a (very) large non-stick sauce pan or pot.
Add the garlic and cook for a minute or two at a medium heat.
Add the chicken, stirring until the outside is no longer pink.
Add the mushrooms and cook for several minutes.
Add the oregano, black pepper, salt and crushed red peppers and stir well.
Add the remaining ingredients, mix well and bring to a boil.
Simmer, stirring occasionally over medium to low heat for 35-45 minutes until the chicken is very tender.
Serve over rice or pasta.