Nimz1466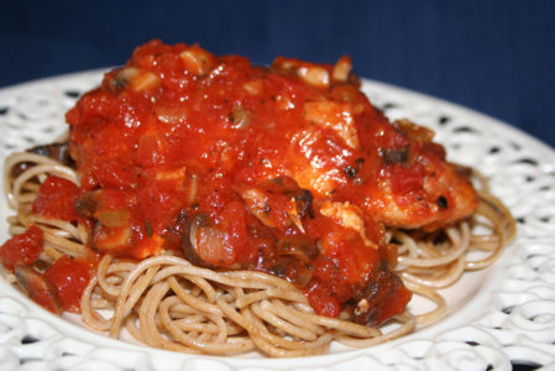 This appeared on the label of the canola oil that I always buy. Although the recipe calls for specific brands of ingredients, which I will put below, you can use any other brand. Also, since this recipe does not have any pork products or cheese in it, some one can always make this kosher by using kosher products. The recipe won't let me put this in the list of ingredients but you can also have chicken legs to the recipe. It's an and/or kind of thing.

I thought this was really good. I don't think I've ever tried Chicken Cacciatore before. The flavors seemed to blend well together. I, like Andi, sauteed the onion, pepper and mushrooms until crisp tender before adding to the dish. Cooked the chicken breast for exactly 40 minutes and they were perfect. This makes a lot of sauce. Served this over wheat Angle Hair pasta. Thanks Made for SSC Pet Parade.
Preheat the oven to 350F (180C).
In a plasitc bag, combine All-Purpose flour and 1/2 tsp salt.
Add chicken a few pieces at a time and shake to coat.
In a frying pan heat oil. Add chicken and brown on all sides. Remove chicken and place in 13 x 9 x 2 inch (3.5L) baking dish.
Combine diced tomatoes, tomato sauce, mushrooms, onion, green pepper, 3/4 tsp salt, crushe basil, crushed rosemary and garlic powder. Por over chicken.
Cover and bake until chicken is tender, 45 to 50 minutes. Skim off fat, if necassary.