Rita1652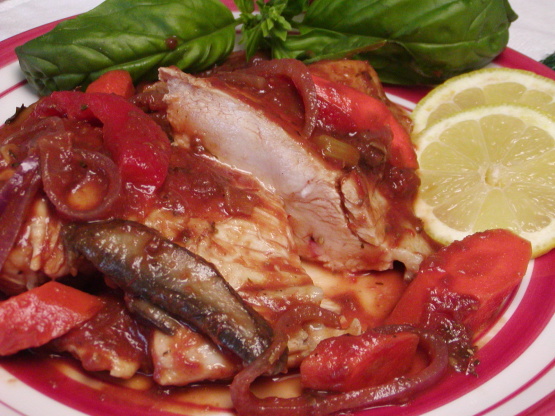 Not you regular cacciatore. This is a comfort dish made easy and lower in fat using skinless chicken breast. Has a dry rub and is quicker cooking then legs. Rich with lots of browned vegetables. This seems like a lot of work, but is made in no time and seems like you've been cooking for hours.

This comfort dish goes a long way. I 1/2ed the recipe and we still had leftovers for the 2 of us. It is thicker then the usual Cacciatora. There is a good verity of vegetables. It's packed with a nice blend of herbs and spices. It's a keeper.
2

lbs chicken breasts, washed and dried

3

tablespoons olive oil
1⁄2 tablespoon coriander seed
1⁄2 teaspoon salt
1⁄4 teaspoon pepper

1

tablespoon olive oil, if needed

2

stalks celery, sliced 1/2 inch thick

2

carrots, sliced 1/2 inch thick

1

red pepper, sliced into rings then cut in half

4

garlic cloves, minced

8

ounces portabella mushrooms or 8 ounces shiitake mushrooms, sliced

1

large onion, sliced into rings
1⁄2 cup white wine (I used sauvignon blanc)
1⁄4 teaspoon red pepper flakes

1

teaspoon brown sugar

1

bay leaf
1 1⁄2 teaspoons fresh rosemary, chopped
1⁄2 teaspoon dried thyme

1

tablespoon fresh lemon juice

5

fresh basil leaves, sliced

1

(28 ounce) can crushed tomatoes
In a coffee grinder grind coriander with salt and pepper.
Rub into chicken.
Heat a large heavy pot place oil in pot to cover bottom.
When hot brown chicken 3 minutes each side.
Remove to plate.
If needed add oil to pot and stir fry the celery, carrots, red pepper, garlic, mushrooms, and onion seasoned with salt and pepper for 5 minutes till browned.
Add wine and scrape all the goodness from the bottom of the pan.
Cook 5 minutes till wine is reduced in half.
Add remaining ingredients and cook for 10 minutes return chicken to pot and cook for 10 more minutes till chicken is cooked.
Serve on a large platter garnished with fresh basil and lemon slices.
Top with grated cheese if you like.