flower7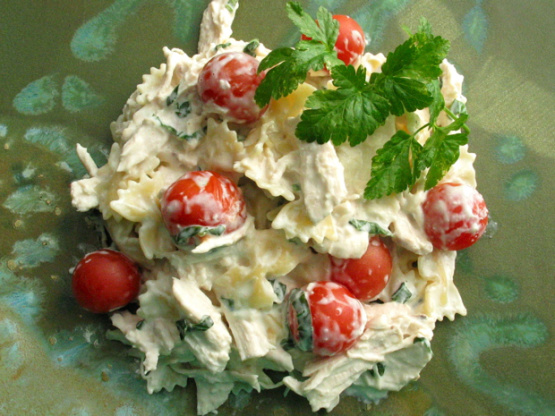 Super easy and good! My very picky 5-year-old ate it! (and she's one that will only eat chicken nuggets and fries!) Thanks for the recipe :)
COOK chicken in large nonstick skillet on medium heat 5 to 6 minute or until done. Stir in broth and garlic powder; cook 3 minute.
ADD cooking creme and tomatoes; cook and stir 3 minute.
STIR in pasta. Top with basil.
Substitute: Substitute 1 lb. uncooked peeled deveined medium shrimp for the chicken. Prepare as directed, reducing cooking time to 2 to 3 minute or until pink.
Nutrition Information Per Serving: 370 calories, 13g total fat, 7g saturated fat, 100mg cholesterol, 620mg sodium, 29g carbohydrate, 3g dietary fiber, 6g sugars, 33g protein, 30%DV vitamin A, 10%DV vitamin C, 10%DV calcium, 10%DV iron.