Chicken Broccoli Rice and Cheese Casserole
Haley M.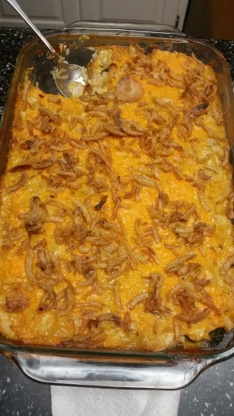 3/18/13. I've updated this recipe to include alternate choices for the canned chicken the original recipe called for. Lately, I've been using store bought rotisserie chicken. I've seen a lot of recipes for broccoli, cheese and rice casseroles. However, this takes it from a side dish to a main meal casserole. It fills up the sink with dirty dishes, but that is the only draw back. You can make umpteen variations to customize the taste to your liking. I will offer substitution possibilities in the instructions.

This turned out really great. I did half a recipe in an 8x8 pan and only used the cream of chicken soup. I also added a slice of american cheese in with the cheddar, and used cubed cooked chicken breast as well as fresh broccoli (only partially cook the broccoli to avoid it getting soggy). My husband liked it and he doesn't usually like "creamy" things. Great comfort food!
1 1⁄2 cups cooked chicken (bake it yourself, rotisserie or canned)

3

cups cooked rice (1 cup uncooked)

2

cups frozen chopped broccoli

1

(8 ounce) can cream of chicken soup

1

(8 ounce) can cream of mushroom soup
1⁄2 cup margarine
1⁄2 cup chopped onion

6

ounces shredded cheddar cheese
Drain 2 cans of chicken breast meat (You can substitute home boiled chicken or rotisserie- just chop it small).
Boil broccoli till tender; drain.
Boil rice. (You can substitute a packet of broccoli cheese rice mix such as Lipton's. Depending on amount of rice you want, might want to make two packets).
Melt margarine in large frying pan. Saute onions till glassy. Add both soups and stir well. Add cheese and mix till melted. Remove from heat.
Lightly grease a 13 x 9 glass dish.
Spread rice evenly over bottom of dish.
Spread broccoli over rice layer.
Pour 1/3 of cheese sauce over the broccoli and rice and spread evenly.
Spread chicken on top of cheese sauce and top with remaining sauce.
If desired, sprinkle more shredded cheese on top.
Bake at 350 for 30 minutes.