Chicken Broccoli Dinner in a Tater
2Bleu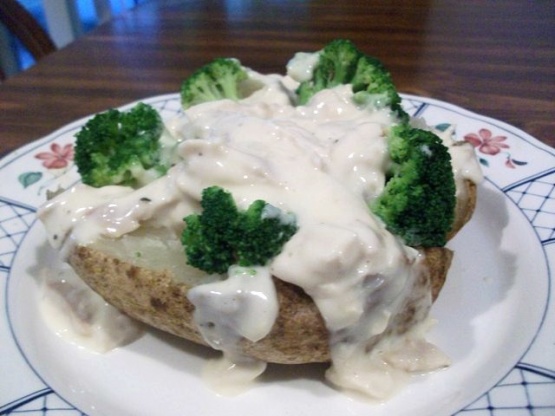 Meat, potatoes, vegetables..... All in one scruptious baked potato! A great meal using leftovers too. You can opt to quick-cook the potato in the microwave (without the foil!), but for an extremely moist and creamy potato, follow the instructions and take the long route. Either way it's a meal fit for a king.... or queen. ;)

Just what a busy mom needs to feed her family on a night filled with activities. This was perfect for a quickie, when I shortened a few steps. Used leftover chicken breast, cooked the potatoes in the crock pot (so they would be hot when we got home from the game), all I had to do was steam the broccoli and warm up the alfredo and chicken. TA-DA! Great meal in a minute! Thanks for sharing. We'll get a pic the next time we're not in such a hurry!
Preheat oven to 450 degrees Fahrenheit. Pierce potato all over with a fork. Place it into the bowl, drizzle with oil, and smear to cover completely.
Shake off excess oil, sprinkle with salt, and wrap tightly in heavy duty aluminum foil.
Place the potato on a baking sheet so the oil will not drip down into oven. Bake for 90 minutes or until a fork inserted will not lift potato off the baking sheet.
About 15 minutes before the potato is done, Add chicken and alfredo sauce to a small saucepan and heat.
Unwrap potatoes from foil and cut lengthwise with a knife; pinch open from long sides to create a 'boat' to fill with the steamed broccoli and chicken alfredo. Season with salt & pepper as desired.