Chicken & Broccoli Bow-Tie Pasta Salad
Luschka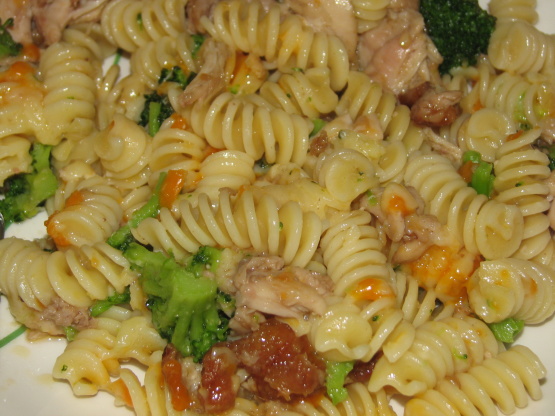 From Kraft foods with some modifications. A nice main meal salad. This can be made ahead and served chilled as a cold salad or made and served immediately as a hot salad. I prefer the hot salad. (Kraft recommends using 6 oz of their grilled chicken strips but I prefer fresh chicken over packaged - use what you are most comfortable serving). ***Update*** Based on the review I wanted to let you know what I took out of the original recipe - it called for 1/2 c sliced olives. I was thinking if you want a really strong flavor - try a very Zesty Italian Dressing or saute your chicken with garlic and add chopped onions to the final dish. Maybe that would perk it up for those that like things a bit spicier. The original way is a method in which my kids will eat it but I understand how adults may want a bit more zing.***

This was a really delicious pasta. I left out the tomato and the Italan dressing. I cooked the chicken in garlic and ginger and used some of the chicken's juices instead of the Italian dressing to make sure the pasta wasn't dry. Very easy, very quick and delicious.
Cook pasta according to directions.
Add broccoli to the cooking water of the pasta during the last 4 minutes of the pasta cooking time.
Drain pasta and broccoli.
Toss chicken, tomatoes, dressing, monterey and cheddar cheese together in a large salad bowl.
Add pasta mixture; mixing lightly.
Sprinkle top with parmesan cheese.