Chicken Breasts With Tomato Basil Cream
loof751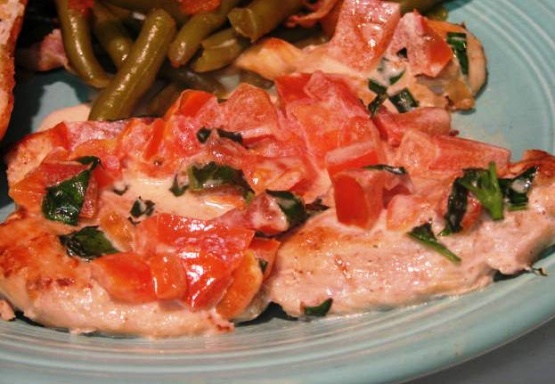 I got this recipe from an email recipe group. Cook time is approximate. Simple and delicious!

I like the sauce for the chicken. Was tasty and easy too make. I served over buttered rice. A side of green beans.
In 10-inch skillet melt butter until sizzling; stir in garlic, salt and pepper. Add chicken breasts. Cook over medium-high heat, turning once, until golden brown (8 to 12 minutes).
Add tomatoes, 1/4 cup basil and whipping cream. Continue cooking, stirring occasionally, until sauce is heated through (4 to 5 minutes).
Serve with pasta and garnish with basil leaves, if desired.
Makes 4 servings.