Chicken Breasts with Tomatillo Salsa
V.A.718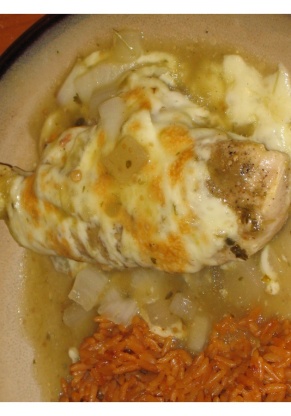 I had a jar of tomatillo salsa in the pantry and decided to create an easy week night dish full of flavor. This sure fit the bill. DH asked me to write it down before I forgot what I did so I could duplicate it again. I'm watching fat, so I didn't add cheese or sour cream to my portion, but it was still delicious. Cleanup is a breeze -just throw the foil away!
Delicious chicken recipe, I used my home canned tomatilla salsa.Loved the monterey jack cheese pepper cheese on the chicken. The foil makes for easy clean up. I have a recipe something like this called Green Salsa Chicken. Thanks for posting your recipe.
Line baking tray with aluminum foil.
Place chicken breasts on foil.
Sprinkle with garlic powder, salt, and pepper to taste.
Sprinkle with cumin seed.
Place 1/4 of onion slices on each chicken breast half.
Cover all with tomatillo salsa.
Place another sheet of aluminum foil on top of chicken breasts and fold all four sides until sealed very tight.
Bake foil packet on tray in 375 oven for 30 minutes.
Remove from oven and carefully remove top foil sheet.
Place a slice of pepper jack cheese on each chicken breast half.
Sprinkle all with chopped cilantro.
Return to the oven uncovered.
Remove from the oven when cheese has melted.
Meanwhile heat tortillas.
Serve one chicken breast per person.
Place a tbsp of sour cream on top of each chicken breast half.
Serve with hot tortillas and refried or borracho beans.