Chicken Breasts With Portabella Mushrooms
diner524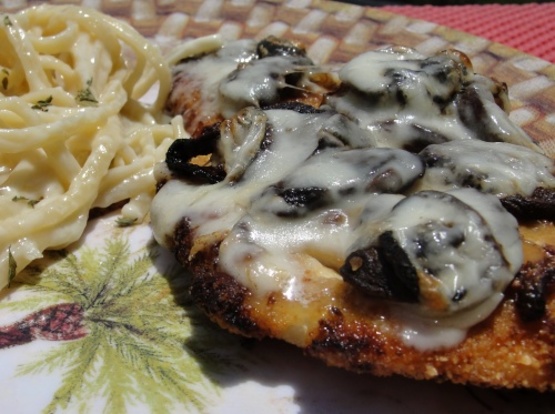 Impressive dish with minimal effort involved. Perfect for a dinner party or romantic dinner!
Delicious and so quick and easy. I had to make a few substitutions for what I had around. I used onion instead of a shallot, cilantro instead of parsley, baby Bella mushrooms instead of portabella and provolone instead of mozzarella. It turned out superb. I'll be making this for years to come. Thanks for such a great recipe.
Preheat oven to 425°F.
Mix together bread crumbs and Parmesan cheese in a shallow dish.
In a small bowl, beat egg.
Dip chicken in egg and then breadcrumb mixture.
Place chicken in baking dish sprayed with nonstick cooking spray.
Heat olive oil over medium high heat in skillet. Add shallot and saute until soft.
Add mushrooms, parsley, and pepper and cook about 5 minutes, turning once.
Top chicken with mushroom mixture evenly divided over each piece. Place mozzarella slice evenly over each piece.
Bake at 425F for 20 minutes or until juices run clear from chicken.