Chicken Breasts With Garlic and Balsamic Vinegar
I found this recipe in a local newspaper many years ago and it is still one of my favorites.
Directions
If breasts are connected, separate filets and cut away any membranes or fat. Sprinkle with salt and pepper. Rinse mushrooms and pat dry. Season the flour with some salt and pepper and dredge chicken in the mixture. Shake off the excess flour.
Heat oil in heavy skillet over medium-high heat and cook the breasts until nicely browned on one side. Add garlic cloves. Turn chicken and scatter the mushrooms over top. Continue cooking, shaking the skillet to redistribute the mushrooms so that they cook evenly. Cook about 3-4 minutes.
Add the vinegar, broth, bay leaf and thyme.
Cover tightly and cook over medium-low heat for 10 minutes. Transfer the chicken pieces to a warm serving platter and cover with foil. Continue cooking sauce with mushrooms, uncovered and over medium-high heat for about 7 minutes. Swirl in butter and discard bay leaf.
Pour the mushroom sauce over the chicken and serve.
Most Helpful
I can't believe I haven't reviewed this - it is a staple in our household, the whole family loves it! I do double the vinegar and broth because we like a lot of sauce, and it is great over rice. Last night I substituted large portabello mushrooms for the regular sliced mushrooms, and I highly recommend this. The added flavor from the portabellos is just incredible. Thanks for this recipe, we love it!

This was absolutely delicious. I used 1-1/2 lbs. thin-sliced chicken breasts. I added some Cavender's seasoning to the flour. Because the chicken was quite thin, I browned it and then removed it, added 2 T. butter, then the mushrooms and cooked them, then doubled the vinegar, broth and thyme and added the chicken back in. It was delicious!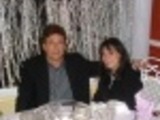 This recipe was quite delicious! Very easy to make, it was a unique and welcome change from the ordinary. The chicken came out moist and flavorful. One change I made: Because my husband loves garlic, I crushed two of the six cloves of garlic for more garlic flavor.