Chicken Breasts With Fresh Tarragon- Dijon Mustard Pan Sauce
Rita1652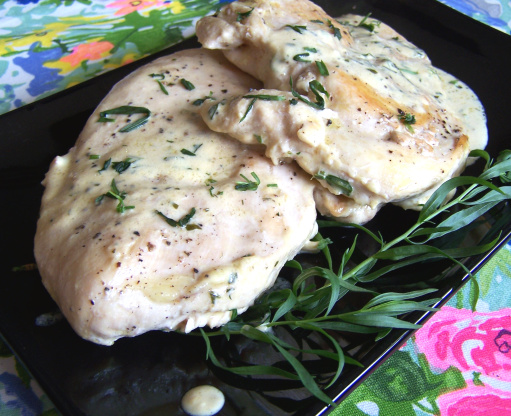 I was looking for recipes using fresh French tarragon and stumbled upon this chicken dish. Please use only fresh tarragon for this recipe. From karynskitchen.com
If chicken breasts are quite thick, pound them with a meat mallet or other heavy object until they are about 3/4 inch thick.
Finely chop the tarragon leaves.
Heat olive oil over medium-high heat in a heavy frying pan just big enough to hold all the chicken without crowding. While oil heats, season chicken with salt and pepper.
Add the chicken and sautè until chicken is cooked through and well-browned, about 10 minutes.
Remove chicken to a plate and tent with foil to keep warm.
Add chicken stock to pan, scraping off any browned bits, and cook until reduced by half, about 2-3 minutes.
Whisk in mustard, tarragon, half and half (or heavy cream) and any juices from the chicken which have accumulated on the plate.
Cook until slightly thickened, about 2 minutes more.
Arrange the chicken breasts on a platter and drizzle the sauce over each piece of chicken.
Garnish with a few tarragon leaves and serve immediately.