Chicken Breasts With Creamy Basil Sauce
lazyme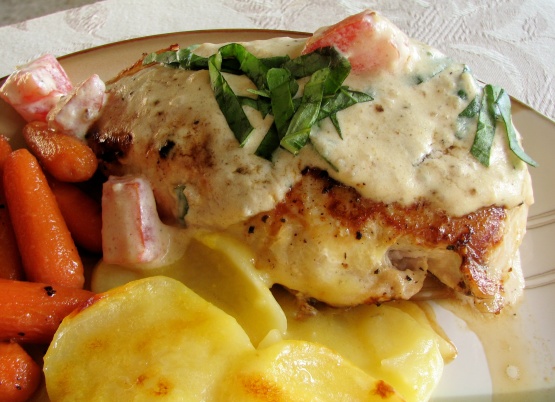 This is a very quick and elegant recipe that would be great for serving special guests. I use fat-free half and half because it is one dairy product I can't tell the difference in.
I've tried making this a few times. Every time I make it my house fills up with smoke. The outside of the chicken burns while the inside is still raw. I'm guessing it needs to cook longer on a lower temperature. It usually still manages to come out ok in the end but I'm not impressed enough with the flavor to keep setting off the smoke alarm.
In a large skillet, melt butter over medium high heat until sizzling. Stir in salt and pepper.
Add chicken; cook 8 to 12 minutes or until juices are clear.
Remove from skillet; set aside. Reduce heat to medium.
Stir flour into skillet. Add half and half and garlic, stirring constantly l minute or until slightly thickened.
Stir tomatoes and basil. Return chicken to skillet. Cook 4 or 5 minutes or until heated through.
Garnish with basil leaves.