Chicken Breasts With Cornmeal Crust and Black Bean Salsa
Ms B.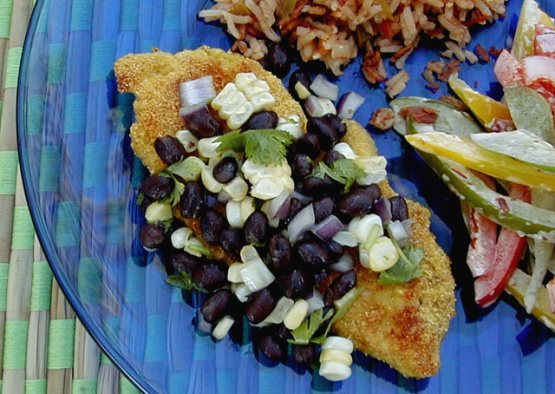 Top Review by Ms B.
I served this with a side of rice and the recommended pepper slaw. It was a good meal, but we found the chicken and black bean salsa to be a bit dry. I had used fresh corn cut from the cob instead of the canned corn, perhaps this was part of the problem. We spooned a bit of my homemade canned salsa over the bean mixture on the chicken and found this to be a great remedy. The flavors were a perfect complement.
Place first 6 ingredients in a large bowl.
Toss to combine, season with salt and pepper.
Cover and let stand for 1 hour.
Mix cornmeal and coriander in a shallow bowl . coat the chicken breasts with olive oil and then dredge in the cornmeal.
In a large skillet heat the olive oil on med/high and saute the chicken breasts until golden on both sides, about 5 mins a side.
Serve with the black bean salsa, rice and "Three pepper slaw with chipotle dressing".