Chicken Breasts With Citrus Cherry Sauce
KateL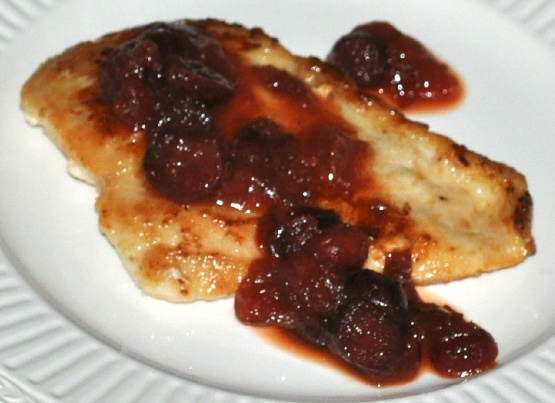 The original of this recipe was found in the Dec/Jan 2011 Taste of Home Healthy Cooking magazine, & with a couple of tweaks, I had what I wanted! Cooking time depends on the amount of chicken that can be cooked at the same time. The cooking time here is figured for 2 batches.

Top Review by KateL
Very nice flavor, and I usually don't like fruit with meat. My biggest challenge was flattening the chicken breasts to a uniform thickness. Despite my efforts, there remained a disparity. I used a meat thermometer to determine doneness and kept cooked breasts warm in the oven. We had some sauce left over, which DH plans to use on pancakes. Made for Please Review My Recipe tag.
FOR THE SAUCE: In a small saucepan, combine the juices, cherries & mustard, then bring to a boil & cook until liquid is reduced by half.
Turn off the.heat, then cover the saucepan & leave it on the stove.
FOR THE CHICKEN: Flatten chicken breasts to 1/2-inch thickness, then sprinkle with sale & pepper.
Place flour in a large resealable plastic bag, then add chicken, a few pieces at a time & shake to coat, then set aside. Repeat until all chicken has been coated.
In a large skillet over medium heat, cook chicken in butter & oil for 5 to 7 minutes on each side or until juices run clear.
Serve chicken breasts topped with the sauce.