Chicken Breasts With Blueberries
Annacia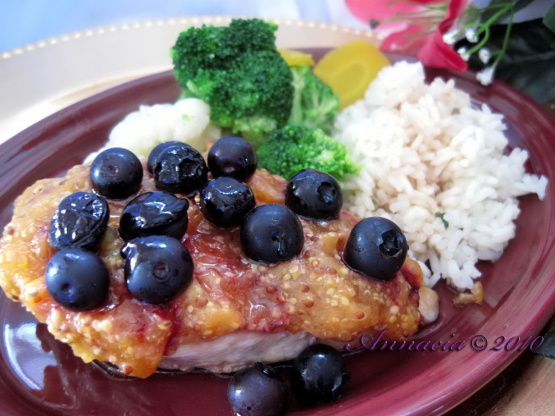 Chicken with a tangy blueberry apricot mustard sauce! Makes an easy weeknight meal.

I made this up in the morning and put it in the crock pot then left for the day and it was delicious! My daughters went blueberry picking with Grandma over the weekend so it was a great way to use them up!
Heat oil over medium-high heat. Add chicken and cook about 6 minutes, until browned on both sides.
While chicken is cooking, stir together jam and mustard in a small bowl.
Spread jam mixture over the tops of the chicken pieces and sprinkle with blueberries.
Reduce heat to medium-low, cover and cook about 15 minutes, or until juices run clear from chicken.
Remove chicken and blueberries to plate with a slotted spoon.
Add vinegar to the pan, increase heat to high, and bring sauce to a boil.
Boil uncovered, stirring occasionally, until sauce is reduced by about 1/3 (about 5 minutes).
Pour sauce evenly over chicken and enjoy!