Chicken Breasts With Attitude
French Tart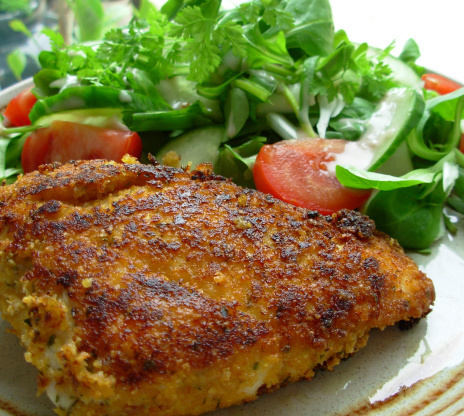 Often in life, the simplest things are best. It is certainly true with some dishes. This quick and easy to make chicken is one of those dishes, very satisfying. My husband loves his comfort food, so I serve this tasty dish with garlic mashed potatoes and fresh green beans.

My chicken turned out very tasty and moist. The pieces I moved first lost the breading on the bottom, but the ones taken as second helpings were removed with both sides of breading attached with no problem. I could only find onion soup, no garlic and onion soup. So that is what I used. Crispy on the outside and moist on the inside. Thanks for sharing! Made for "For Your Consideration" game on Yuku.
DIRECTIONS:.
Preheat oven to 375 degrees.
In a large bowl add the cornflake crumbs, potato flakes, salt, pepper, cayenne pepper, allspice and soup mix and blend well.
Wash the chicken breasts and lightly shake off the excess water.
Dip the damp chicken in the cornflake mixture.
Place on a baking sheet and drizzle the melted butter overtop of the chicken breasts.
Bake in a preheated 375 degree oven for 45 – 60 minutes.
Make sure chicken is cooked before removing from oven, times may vary due to individual stoves and the size of the chicken breasts.