Chicken Breasts With Asparagus and Artichokes
Satyne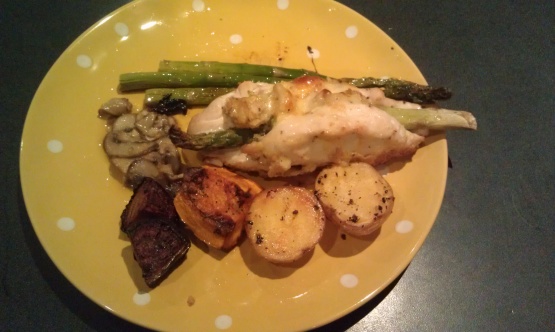 A nice "stuffed" chicken breast recipe. Because the chicken breasts are flattened, they take less time to cook. Recipe is from Maria Urbinati.

Top Review by Satyne
This was lovely. Rather easy to make too. I must admit, I'm terrible at flattening out chicken, so these probably won't be the greatest pictures for this meal, but a few skewers got that sorted out. That did mean that I was unable to follow the browning direction accurately, so I just cooked the chicken for longer. Couldn't fit the mushrooms into the rolls, so we did them in garlic and butter and served on the side, yum. Roasted the left over asparagus and served them with balsamic vinegar. Thanks for a wonderful dinner. Made for phototag winter/spring 2013
Place chicken breasts between 2 sheets of wax paper. Flatten to 1/4 inch thickness, using a meat mallet or rolling pin. Set aside.
Snap off the tough ends of the asparagus. Remove scales from the stalks with a knife or vegetable peeler.
Arrange 1 large or 2 small asparagus spears, one cheese slice, and one sliced mushroom on half of each chicken breast. Top each chicken breast evenly with the chopped artichoke hearts and pimento. Sprinkle evenly with salt and pepper.
Fold the remaining half of each chicken breast over the vegetable mixture; secure with wooden toothpicks. Dredge the chicken in flour; dip in the beaten egg, and coat with the breadcrumbs.
Combine the butter and oil in a large skillet; cook over medium heat until the butter melts. Add the chicken, and cook 7 to 10 minutes on each side or until browned. Remove the chicken from the skillet; drain on paper towels.
Place the chicken on a baking sheet. Top each with 1 remaining cheese slice. Bake at 350 degrees for 15 minutes or until the cheese melts and the chicken is done.