Chicken Breasts Stuffed With Basil Walnut Butter
vrvrvr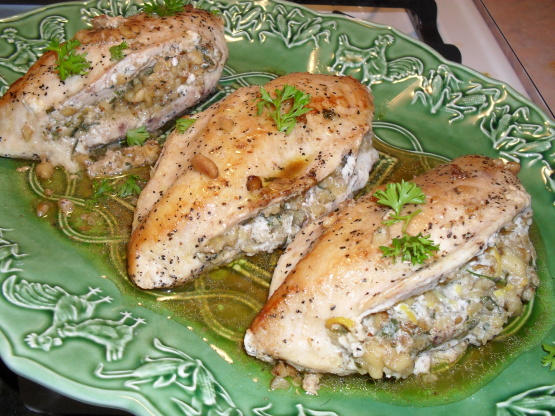 The dish takes barely 20 minutes to make. The inclusion of the aromatic herb makes sure there's no sacrificing taste for speed. The spiciness of basil enhances the richness of the walnut butter to bring a whole new flavor dimension to the traditional chicken dinner.

Top Review by vrvrvr
Heavenly chicken! I did not have enough fresh basil, so I supplemented with a little fresh rosemary. The lemon zest in this is fantastic. I had enough walnut butter to fill 3 large chicken breasts. I used toothpicks to hold them closed while searing and browning. I didn't cover the chicken breasts until the very end, for about 4 minutes, just to make sure they cooked all the way through. We needed a little more sauce; I used some chicken stock to reduce in the pan after removing the chicken. Next time I'll use a bit more. And next time I will MAKE more of this chicken because everyone absolutely loved it!!
To make basil walnut butter: Finely chop walnuts and basil leaves.
Place walnuts, basil, garlic, lemon zest, 5 T of butter and salt in bowl of an electric mixer.
Using paddle attachment, mix on medium-high until butter is smooth.
Using a sharp thin-bladed knife, cut a large pocket in each chicken breast by inserting it horizontally into thickest end and carefully slicing from side to side without piercing the edges of breast.
Divide butter in 4 parts and use your fingers to stuff each pocket with a portion.
Don't worry if it spills out slightly; they will seem quite full.
Season both sides of the chicken with salt and pepper.
Melt remaining 1 T of butter in a large skillet over medium heat.
When it sizzles, lower chicken breast into pan, cover tightly, and reduce heat to low.
Cook for 5 minutes or until nicely browned, then turn chicken over and continue to cook, covered, for 5 to 7 minutes longer or until there is no sign of translucency when you peek inside one of the pockets.
Some of the basil butter will have spilled out of the chicken to create a sauce in the pan.
Transfer the chicken to a warm platter or individual serving plates and spoon the sauce over the top.
Serve immediately.