Chicken Breasts Stuffed With Artichokes Lemon and Goats Cheese
rpgaymer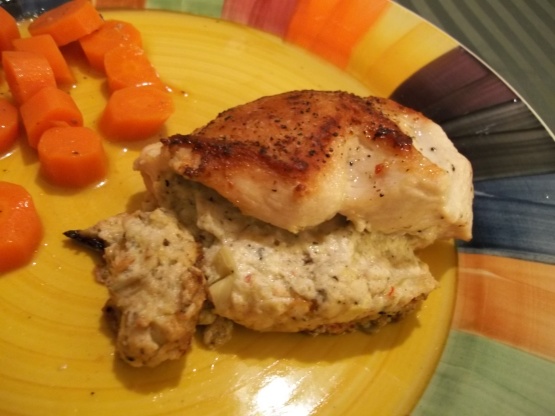 It's hard to believe that this delicious chicken with it's rich filling is indeed low in fat and calories! Only 234 calories!

Made this as a lunch for a friend a few weeks ago and failed to review it. I'm sorry. Very nice flavors. I did use a whole chicken breast and made a pocket just because, no real reason. I have made similar dishes both ways and just did the pocket for this. I seasoned the chicken with lemon pepper and salt and I did use a mix of olive oil and butter to saute in my cast iron. I just don't like putting a non stick in the oven and like the browning my cast iron give me. It came out perfect. I served it with a simple lemon cream sauce (heavy cream, lemon zest, juice, basil and shallots), just simmered on the back burner as the chicken finished in the oven. It took away the low fat or healthy factor, but it was just a teaspoon or so drizzled over the chicken. NOT a heavy sauce. I did serve it with sauteed spinach and couscous. I still felt that it was very light, great flavor, easy and just a really enjoyable dish. Will easily make this again. Great for a dinner party too Thx, kim
Preheat oven to 190*C/375*F .
Combine the first six ingredients, mixing well. Set aside.
Place each chicken breast half between 2 sheets of heavy duty plastic wrap and pound to ¼ inch thickness using the side of a rolling pin, being careful not to tear the meat.
Top each breast half with 2 TBS of the cheese mixture; roll up jelly roll fashion.
Tuck in the sides and secure each with a wooden pick.
Heat a large non-stick skillet coated with cooking spray over medium high heat.
Add the chicken to the pan, and cook for 3 minutes one each side or until browned.
Wrap handle of the pan with foil and bake for 15 minutes, or until chicken is done.