Chicken Breasts Smothered in a Mushroom Cream Sauce
Nas N.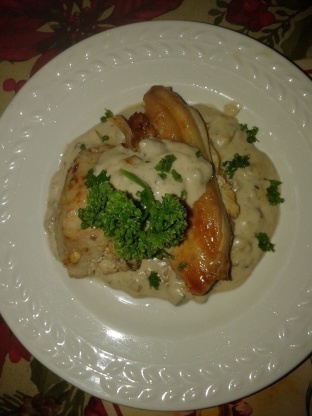 Here is a tasty recipe where the ingredients are likely already in your kitchen! Just because this chicken is quick to prepare doesn't mean it lacks flavor. Serve over steamed rice or bow-tie pasta to finish this creamy chicken dish.

Loved this recipe. Next time I will make double sauce as it so yummy over mashed potatoes or rice. I also will brown the chicken a bit before baking to get rid of the water or buy chicken that is not infused with it! May try with asparagus too.
Heat oil in medium size frying pan.
Saute mushrooms for 5 minutes (stirring often to prevent burning). Add diced onion and saute until translucent (about 3-5 minutes).
Add garlic and stir for 1 minute.
Add mushroom soup, 1/2 and 1/2, basil, paprika and salt and pepper to taste.
Mix well and take off heat.
Heat oven to 350 degrees F.
Wash and pat chicken dry.
Arrange chicken in a 2 quart baking dish.
Spoon mushroom mixture over chicken.
Sprinkle with croutons or parmesan cheese (optional).
Bake uncovered for 30 minutes or until juices run clear when pierced.