Cathy17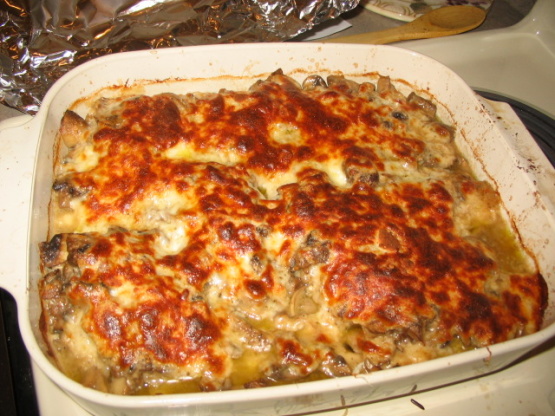 This recipe comes from one of our local cookbooks, Cajun Revelation.

UPDATE: 4/20/10 - Can't believe it's been three years since I made this recipe. I just made it last night and it was fab. I didn't have any mozza or fontana cheese, so I used BRIE. It was excellent! I also added a bit of cornstarch to the gravy mixture before adding it to the chicken. Still a very tasty dish! Will remember to make more often. ================ This recipe is amazing. I served it to MIL, DH's Aunt and Cousin and they all loved it! I didn't have marsala wine, so I used a white Chardonnay and followed the rest of the recipe to a T. The mixture of mushrooms and the wine/stock/drippings made a fabulous gravy while the chicken baked. The only thing I would do differently next time (and there definitely WILL be a next time) is to add the cheeses near the end as I had a bit of burnage. I would also add more of the drippings mixture to the chicken as it bakes because the gravy is so fantastic! This is a keeper and will be a staple gourmet type meal when company comes over. If you're serving it to company and presentation is important to you, I also recco you use a larger baking dish for this because it can be quite messy looking bringing it out of a smaller baker onto a serving platter. Make sure there's a decent amount of space between each piece of chicken so it's easier to remove and place on a platter for company. I served it with basmati rice, Evie's Recipe #12619 and ~Christine's~ Recipe #10344 You have a winner, Luby! The meal is great especially when served on a beautiful new platter! ;) DH didn't even flinch at the platter because he was too busy scarfing the chicken!
Flatten each chicken breast between sheets of waxed paper to 1/8 inch thickness.
Dredge chicken lightly with flour.
Place 4 pieces at a time in 2 Tbsp melted butter in large skillet.
Cook over low heat 3 to 4 minutes on each side or until golden brown.
Place chicken in a greased 9x13 baking dish overlapping edges.
Sprinkle with salt, black pepper and red pepper to taste.
Repeat procedure with remaining chicken.
Add remaining butter to skillet used to saute chicken then add mushrooms, garlic and onion and saute until tender then remove from skillet.
Sprinkle sauteed mushrooms, garlic and onion evenly over chicken.
Stir wine and chicken stock into chicken drippings and simmer 10 minutes, stirring occasionally.
Add salt and peppers mixing well and spoon about a third of the sauce evenly over the chicken reserving remainder.
Combine cheeses and sprinkle over chicken.
Bake at 450 degrees for 10 to 12 minutes.
Place under broiler 1 to 2 minutes or until lightly browned.
Serve with reserved sauce.