Chicken Breasts in Sun-Dried Tomato Cream
Catnip46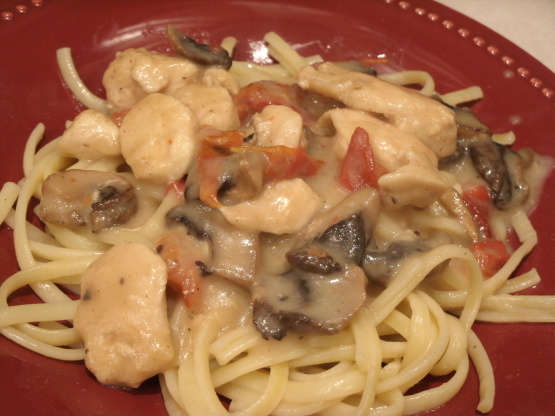 This is great. Easy enough to prepare after work, yet elegant enough for company and with flavor to spare. This is a recipe that came from a member of my daughters online playgroup. (Thanks Alice) It is very simple and delicious, but impressive. Your guests will think that you are indeed a "chef". I like to double the sauce recipe and serve this with pasta. Also a quick note: for a variation that tastes just like Johnny Carino's Chicken Scaloppini, make sure to double the sauce recipe and add diced bacon and chopped Roma tomatoes and serve over angel hair pasta.

My husband and kids (13 and 10yrs. old) adore this meal. The kids fight over leftovers-- if there are any. When I measured out exactly 1 Tb. of flour, the sauce always came out a little too thin. When I use a heaping tablespoon of flour, the sauce is the perfect consistency for us. The recipe says to divide the chicken broth, but I don't see where. At step 7, I stir in all of the 3/4 cup. I serve this over angel hair pasta with bacon and diced tomato sprinkled over top. Excellent flavor!
Heat sun-dried tomato oil over medium-high heat.
Sauté chicken in oil 8 minutes, turning once, until browned and cooked though.
Transfer to a plate.
To skillet, melt butter over medium-high heat.
Add mushrooms and saute until they are lightly browned and have released most of their liquid.
Add garlic and cook 30 seconds.
Stir in flour and cook 1 minute.
Stir in broth, cream, tomatoes, thyme, salt, pepper flakes and mushrooms.
Bring to boil and cook 1 minute.
Add chicken just to heat through.
Note: Two TBSP of sun-dried tomato slivers is equal to about 4 sun-dried tomato halves.
Buy sun-dried tomatoes packed in oil.
They come pre-seasoned.
They cut into slivers easily with a kitchen scissors.
I also like to flatten chicken breasts with a mallet or rolling pin to help cook more evenly.