Chicken Breasts in Green Salsa
loof751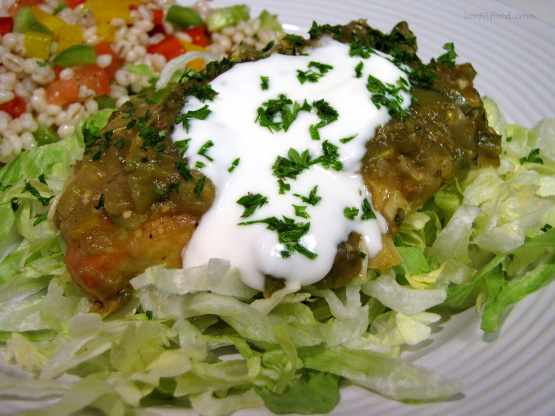 Chicken beasts bathed in a fragrant sauce make a delicate dish, perfect for dinner parties. Serve with rice to complete the meal. This is out of my Mexican Recipes cookbook...Yep...that's the name of the book...
salt and pepper
all-purpose flour, for dredging

2 -3

tablespoons butter (or a combination of butter and oil)

16

ounces salsa, green, mild (or hot)

1

cup chicken broth

1 -2

garlic clove, finely chopped

3 -5

tablespoons cilantro, chopped, plus extra to serve
1⁄2 green chili pepper, fresh, seeded and chopped
1⁄2 teaspoon ground cumin

1

cup sour cream
lettuce, shredded

3 -5

green onions, thinly sliced
Sprinkle the chicken with salt and pepper to taste, then dredge with flour.
Shake off the excess.
Melt the butter (or butter, oil) in a skillet, then add the chicken and cook over medium-high heat, turning once, until golden but not cooked through-the chicken will continue to cook in the sauce.
Remove the chicken from the skillet and set aside.
Place the salsa, broth, garlic, cilantro, chili, and cumin in a pan and bring to a boil.
Reduce the heat to a low simmer.
Add the chicken to the sauce, spooning the sauce over the chicken.
Cook for 25-30 minutes, or until the chicken is cooked through and tender.
Remove the chicken and sauce from the pan and season to taste with salt and pepper.
Serve with sour cream, lettuce, scallion, and cilantro.