Chicken Breasts in Cream Sauce
Calee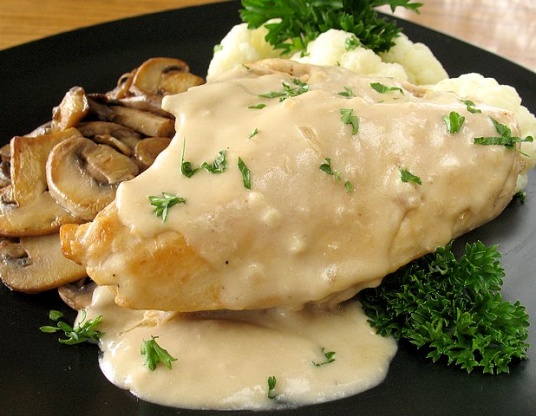 Chicken oven poached in creamy goodness resulting in tender breasts. I seasoned the breast with pepper and garlic powder then placed them in the oven with all the ingredients. Covered the casserole dish with foil. They were done in 45 minutes. I removed chicken then thickened liquid without removing the onion bits which was yummy! The chicken was very tender. Thanks!
Brown chicken breast.
Place breasts in oven dish.
Mix together the onion, garlic, cream, broth, salt, white pepper and worcestershire and mix well.
Pour over the chicken and bake 2 hours at 300 degrees.
After baking, remove breasts; strain juices into saucepan.
Add 2 tablespoons flour and 1/2 cup water.
Mix with whisk until thickened.
Add milk if too thick.
Pour sauce over breasts and garnish with parsley.