Pam-I-Am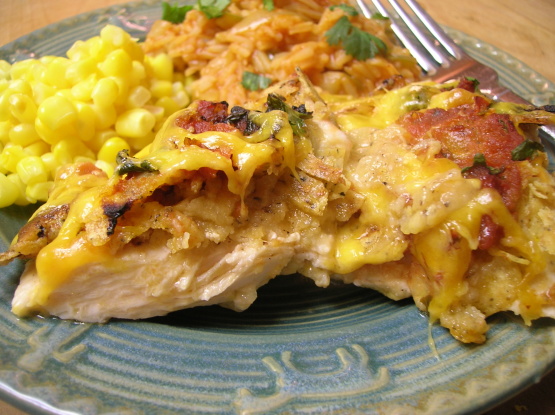 This chicken stays very moist and tender. Has a wonderful mexican flavor.

We really enjoyed this chicken! So easy to put together. I used some chicken tenders as they were on sale and really enjoyed the taste of tortilla chips as the coating. They got nice and crispy in the oven and still stayed pretty crunchy even after pouring on the salsa and cheese. I would highly recommend using fresh cilantro mixed with the salsa and not the jarred cilantro salsa... the fresh cilantro really added the best kick and we will be making this again!
Combine lime juice, oil, and honey in shallow dish.
Dip chicken in lime mix.
Coat chicken with tortilla crumbs.
Place in ungreased 11x7 baking dish.
Bake, uncovered at 350* for 25 minutes.
Mix salsa and cilantro.
Pour over chicken.
Sprinkle with cheese.
Bake for 6 minutes more.