Cuistot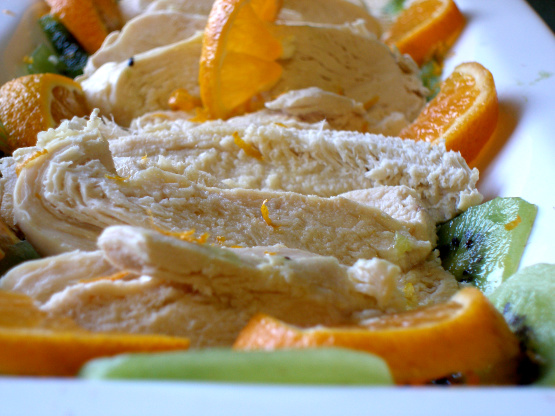 This recipe was found online at homecooking.about.com. For someone who's always looking for new ways to prepare chicken breasts.......

Excellent chicken. Never had kiwi with chicken, and I was pleasant surprised. Made recipe as posted except I left out the salt.. Made for PRMR tag
In large saucepan bring chicken broth to boil.
Add chicken breasts & simmer 10 minutes, skimming off any scum that rises to top.
Add celery & leek & simmer another 10 minutes.
Remove chicken from broth & keep warm [Broth can be strained & reserved for some other use.].
Arrange kiwifruit in fan-shaped pattern on serving dish.
Zest half of orange & sprinkle over kiwifruit.
Juice orange & lemon into small bowl.
Heat butter in small saucepan & add sugar, stirring until sugar is melted & begins to turn dark, about 5 minutes.
Add orange & lemon juices, stirring until incorporated.
Boil until sauce is recuded to about 2 tablespoons.
Stir in salt & cayenne pepper.
Slice ckicken into thin strips, & place on top of kiwifruit.
Top with sauce & serve.