Chicken Breast With Creamy Mushroom Sauce
SEvans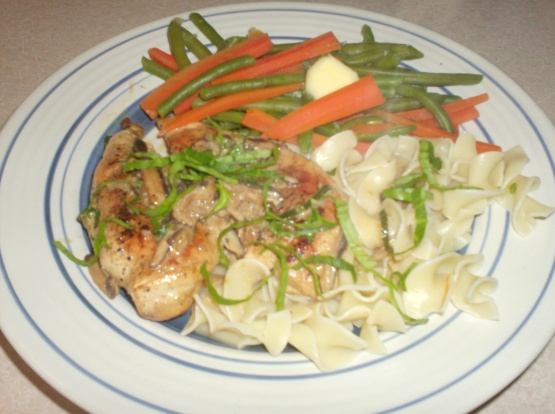 Deliscious & Easy - This recipe is shown with egg noodles and steamed carrots and green beans. Rice would also accompany this recipe very nicely. To make this low carb - omit the noodles - substitute with faux rice or faux taters.
season chicken wiht salt and pepper.
heat oil in a larg enough pan to accomodate all the chicken at the end.
brown the chicken both sides for approximately 10 - 12 minutes turning once half way through (cook time will vary depending on the size of the chicken breasts) - don't crowd the chicken - cook them in batches.
transfer the cooked chicken to a plate and tent
Add Shallots to the pan stirring for approximately 30 seconds scraping all your cooked bits of chicken off the bottom and incorporate. Add mushrooms and stirr fry for approximately 2 - 3 minutes.
Add wine and cook until mostly reduced.
Add chicken broth and again cook until reduced by half.
Add cream and some of the chives or onion greens. Thoroughly combine and return the chicken to the pan - coat both sides and then leave on low heat until the chicken is warmed up.
When plating - sprinkle some more onion greens or chives on the chicken for garnish.