Chicken Boudine Paula Deen
Prep 15 mins
Cook 30 mins

This is a lovely casserole that I first saw on Paula Deen's show. It has become of favorite of my family.
2 cups cooked egg noodles
2 (10 3/4 ounce) cans cream of mushroom soup
1⁄2 cup chicken broth
1⁄4 cup dry sherry
4 cups chopped cooked chicken
3 cups grated sharp cheddar cheese, your choice, divided
1 (2 1/4 ounce) package slivered almonds, toasted
1⁄4 cup drained chopped pimiento
1 (4 ounce) can sliced mushrooms, drained
salt and pepper
Directions
Preheat oven to 350°F.
In a large bowl, toss together the noodles, soup, broth, and sherry.
Add the chicken, 2 cups of cheese, almonds, pimento, mushrooms, and salt and pepper, to taste, and toss to combine.
Transfer the mixture to a greased 13x9x2-inch casserole and top with the remaining cup of cheese.
Bake for 30 minutes, or until bubbly.
Note: When I make this I make it without the almonds but I kept them in the recipe as this is how Paula made it on her show.
Reviews
Most Helpful
Great recipe. I did use 2 cups of cooked rice in lieu of the noodles (does that make this not a Boudine?) Anyway it was delicious last night, and even better today. I also left out the almonds and didn't miss them a bit. I am not generally a leftover eater, but I'm afraid my hubby will have to fight me for the rest.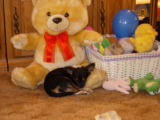 It's a keeper per my husband. I made a few changes to lower the calories and make it a bit more healthy. I used whole wheat egg noodles, fat free cream of mushroom soup, and 2% cheddar cheese. Even with those changes, this dish was nice and rich and I don't feel like we missed out on anything. We also used 8 oz. fresh mushrooms, sauteed in a bit of olive oil.

This really is delicious. I also use a lot more noodles, and I do use the almonds in it because they add a nice crunch, but I don't add the pimiento. We scraped the pan clean!