This is from Best Foods Mayonnaise. I like to make it a Chicken BLAT by adding avocado.
Directions
Squeeze Mayonnaise generously onto tortillas, then layer lettuce, tomato, chicken, and bacon down center or each tortilla.
To serve, roll and fold the filled tortilla.
Most Helpful
A BLT with chicken breast on it, what a great idea! I cooked up a chicken breast with a little black pepper, cayenne and garlic on it and used that, chopped up in the wrap. This made for a delicious and filling lunch today. Thank you cookiedog for another great recipe! Made for PAC Spring 2011.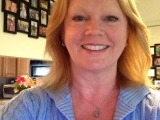 Delicious wrap! The lettuce wasn't looking so good at the store, so I used spinach. It worked out wonderfully. Thanks for sharing!

What can I say? These are really good! My dh decided he wanted to try a wrap, so we had these. I used packaged slices of real turkey breast (not the pressed stuff) and cooked my bacon semi-crisp (personal preference). Simple & good! Made for I Recommend Tag-Feb'10.