Bayhill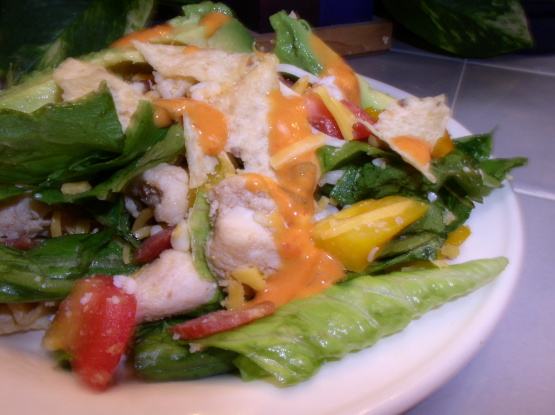 A nice salad with a little flair! Easy to put together and can be a meal on those hot summer nights. :)

I'm only rating the dressing as I made an entirely different taco salad. I would have never thought that french dressing and salsa would taste so good. Thank you.
Mix salsa and French dressing in a bowl until well blended and set in refrigerator.
In a 12 inch non-stick skillet, cook bacon until crisp and drain on paper towel.
Reserve 1 tbsp of bacon grease in pan and add chicken and cook 4-6 minutes over medium heat, or until no longer pink, remove from heat and cool slightly in refrigerator for 30 minutes.
In a 3 quart salad bowl, layer lettuce, chicken, bacon, bell pepper, and tomatoes and top with dressing.
Can be served immediately or refrigerated up to 24 hours.
Just before serving, top with cheese, avocado, sour cream and tortilla chips.
Tip: To save time, you can use pre-cooked chicken strips and brush avocado with lemon juice if not going to use right away to keep them from browning.