Chicken & Black Bean Enchiladas
Bayhill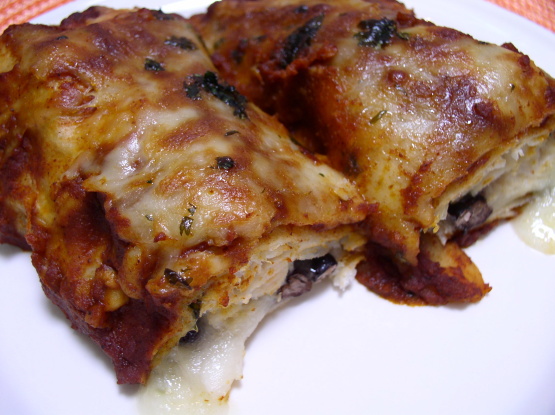 This is a recipe I've been perfecting for a while and I think I've reached nirvana. I crave these at least once a week and even though the instructions appear lengthy, it really is a simple dish to prepare and well worth the effort. Hubby has told me that if I ever open a restuarant that these should be on the menu, as they are far better than any enchiladas we've ever had dining out. And for those of you who claim to not like cilantro, please give this a try. If you didn't know better, you wouldn't know it had cilantro in it. The taste is just a hint of freshness when combined with everything else. Cooking the chicken in it's own little soup bath really gives it a nice subtle flavor too. I suppose if you were pressed for time, you could use a rotisserie chicken. I've also used other cheeses than monterey jack, but find that the jack is the best flavor combination. I have to admit, that most of the measurements are my best guess - feel free to use a little more or little less of any of the enchilada fillings, but I think what I've listed is pretty close to what I do. Also, if you prefer your sauce with a little heat to it, you could add in a little cayenne, but don't do to much and cover up all the other lovely flavors. I serve these with beans and rice on the side, and a little dollop of sour cream on the top. I have to admit, I'm pretty proud of this dish and hope you'll enjoy it as much as I do.
These enchiladas were very good. They went together very quickly and easily. Cooking the chicken in the bouillon and spices really gave it a fantastic flavor. My chicken breasts were large so I used 3 instead of 4. For the sauce, I added the larger amount of water as I wanted it a little thinner. Also, I added the adobo seasoning (from "The Spice House"), and some sugar to give it a little more flavor. I used soft taco sized flour tortillas and there was enough filling to make 8 large enchiladas. My family enjoyed these very much, and I will definitely be making them again. Thank you for sharing this great recipe.
Place chicken breasts in a skillet, cover with water, and add onion, peppercorns, garlic, bay leaves, and bouillon.
Bring to a boil, then reduce heat and simmer until chicken is cooked, about 20 minutes (depending on how thick the breasts are). Remove from broth; set aside and let cool. When the chicken is cool, shred.
While chicken is cooking, melt 2 Tbsp butter in medium sauce pan over medium heat. Add flour and cook for 2-3 minutes, until roux starts to turn light brown.
Add tomato paste, chili powder, cumin, garlic powder and adobo; stir to combine.
Stir in chicken broth and 1/2 cup water.
Bring to a boil, the reduce heat to low. (You can add up to a 1/4 cup more water to thin it out a little if you prefer.).
Taste and season with salt and pepper.
To assemble enchiladas, warm tortillas in the microwave so they are more pliable, approximately one minute.
Sprinkle 1 Tbsp of the roughly chopped cilantro down the center of the tortilla.
Next, add 1/4 cup shredded cheese.
Top with 2 Tbls of black beans and a generous 1/3 cup of shredded chicken.
Bring one side of the tortilla over the top of the filling, tuck in and continue to roll.
Coat the bottom of a 9x13 baking dish with 1 cup of the enchilada sauce.
Place rolled enchiladas in the pan and cover with remaining sauce and 1-2 cups of cheese and any remaining cilantro.
Bake at 375 for 20-30 minutes, or until hot all the way thru and the sauce is bubbly.