Chicken, Black Bean, and Tortilla Casserole
Olive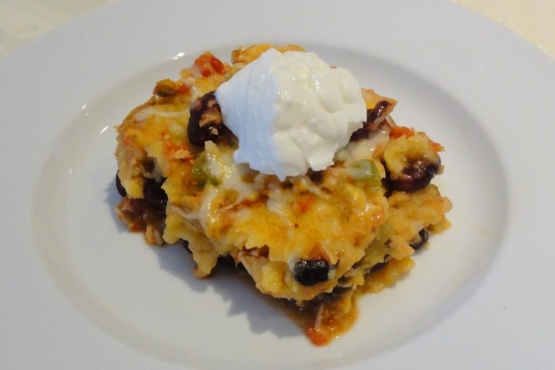 My sister made this and gave me the recipe to post.
Top Review by Sue W.
Fabulous base recipe. I loved the clean flavor and NO enchilada sauce! I halved the recipe and adapted it for New Mexico flavors (pinto beans for black beans, a can of green chiles for green bell pepper, Rotel tomatoes w/green chiles for regular and Mexican blend cheese). I also layered it slightly differently: before adding chicken and beans to sauce, I put a little layer of sauce on the bottom of the 2 qt. casserole. Subsequent layers: 2 1/2 tortillas, 1/3 mixture, 1/2 C cheese (3 layers). Definitely a dollop of sour cream on top when serving! It was perfect!
In a big skillet, warm the oil over medium heat; add in onion, green pepper, and garlic; saute about 5 minutes, until vegetables are soft.
Add in tomatoes, salsa, cumin, salt, pepper, and oregano; stir to mix.
Stir in beans and chicken.
Preheat oven to 350°.
In a lightly oiled 4-quart casserole spread 1/3 of the bean-chicken mixture over the bottom.
Top with 4 tortillas and sprinkle with 1 cup cheese.
Add another 1/3 of the bean-chicken mixture and 1 cup cheese.
Top with 4 tortillas and 1 cup cheese.
Add remaining bean-chicken mixture; cover and bake about 40 minutes, until bubbly.
Uncover and sprinkle with remaining cheese; cook 10 minutes; let stand 5 minutes before serving.