Tisme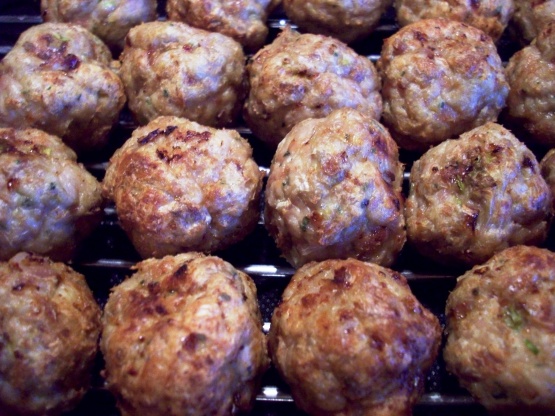 Serve with chilli sauce, yoghurt or ketchup!

I rated this five stars because it was super easy and super tasty! I tripled this recipe and used 3/4 a yellow onion (diced) instead of the green onion. I had to use a bit of Italian Seasoned Panko breadcrumbs along with my plain bread crumbs, and even then I didn't have quite as much as I needed, but when all was said and done, these turned out wonderfully! I rolled the chicken into "kabobs" rather than meat balls because I just didn't have the patience for balls! Baked in the oven at 400 for approximately 30 minutes. Super delicious! DH said it's a keeper!
Preheat oven to 200C (400F).
Place minced chicken, breadcrumbs, green onions, coriander, garlic, ginger and egg in a food processor and pulse to combine.
Divide chicken mixture into 12 equal pieces and with wet hands shape into neat ovals.
Place bites on a lightly oiled baking sheet and refrigerate for 10 minutes.
Bake chicken bites for 25 minutes or until lightly browned.
Serve hot or cold.